150. How To Draw Manga (Monochrome two-tone printing)
When printing a manga manuscript, the condition of the manuscript submitted to the print shop may affect the finished look of the printed product. You need to ensure your hard work is not ruined when printed by the way of making the manuscript.

Create the manuscript which you submit to a print shop in "grayscale (black, white, gray only)" or "monochrome two-tone (only black and white)." Do not use Screen Tone when creating manuscripts in grayscale. Instead of Screen Tone paint it in shades of gray. When creating a manuscript with monochrome two-tone, you need to use Screen Tone. But to prevent moiré occurring while printing, you need to remove Anti-aliasing of the dots of Screen tone and optimize the artwork for monochrome two-tone printing.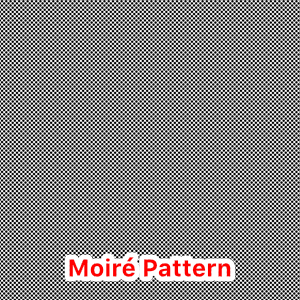 Moiré is a phenomenon that stripes appear in the area where the Screen tone is applied. Moiré in digital manuscript occurs due to the Anti-aliasing applied to each dot of the Screen tone which applied to the manuscript. When printing in monochrome two-tone, the shade of the color is expressed by the amount and size of black dots. Therefore, if Anti-aliasing is applied to the dots, the gray parts will disappear and the shape of the dots will be changed, and appear as moiré.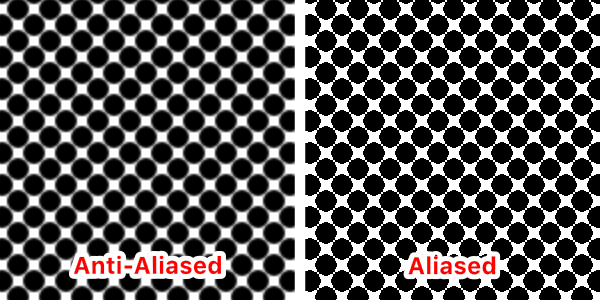 This section describes how to optimize a manuscript when printing in monochrome two-tone.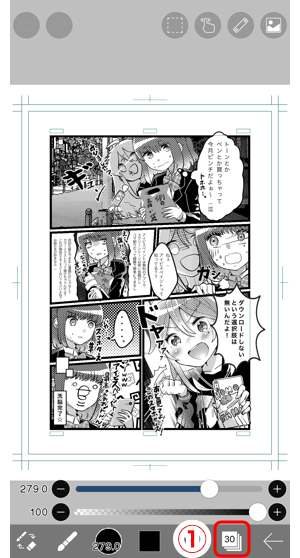 When you finished drawing the manuscript, first hide the "Manuscript paper template." Open ①Layer window.

*Please check this YouTube video for how to use the manuscript paper template.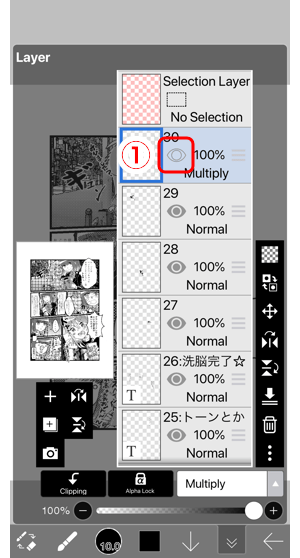 ①Tap the Layer display switch button to hide the layer where the manuscript paper template is placed.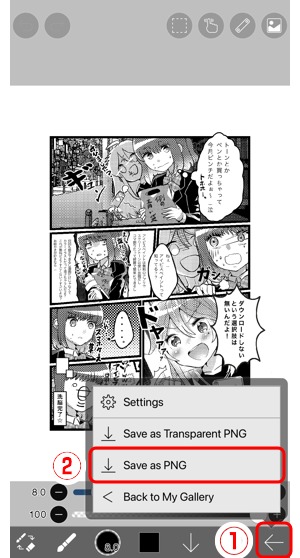 Tap ①Back button . Tap ②Save as PNG to save the manuscript as PNG image.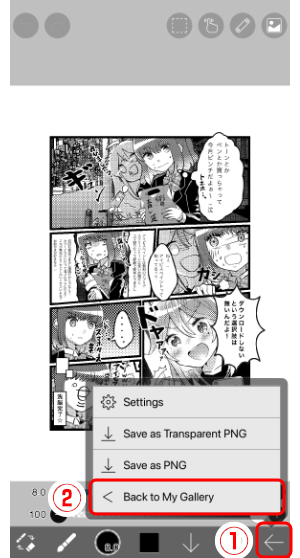 Tap ①Back button again. Tap ②Back to My Gallery to return to My Gallery.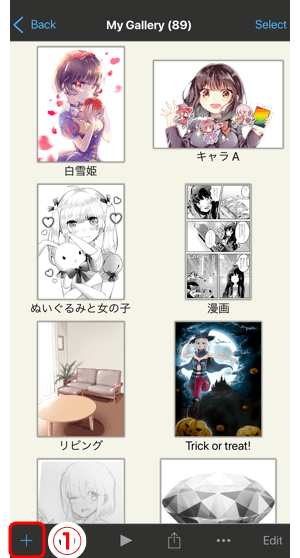 Tap ①"Create new canvas" button .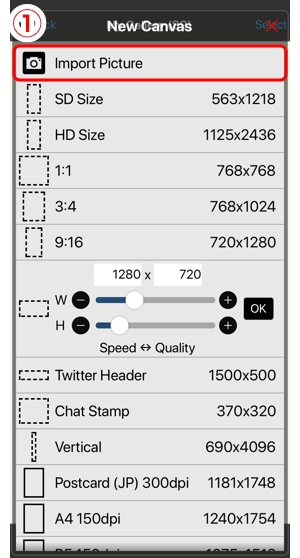 Tap ①Import Picture and tap the PNG image saved earlier to photo app.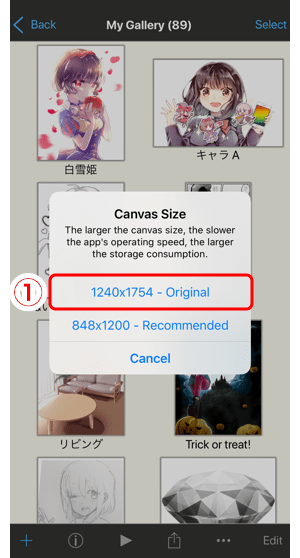 For the canvas size, tap ①Original ​​and import the PNG image to the canvas.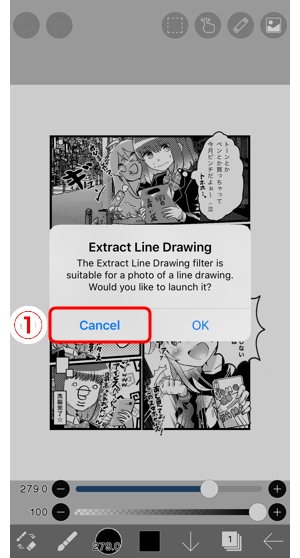 Since you don't need to extract the line drawing, tap ① Cancel button .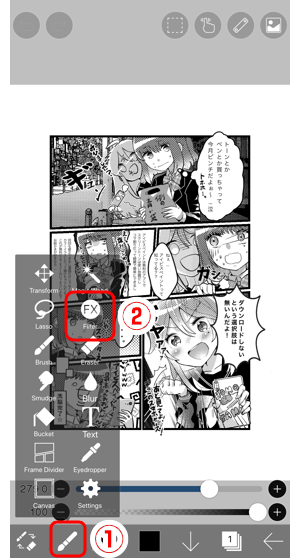 Open ①Tool Selection window and tap ②Filter tool.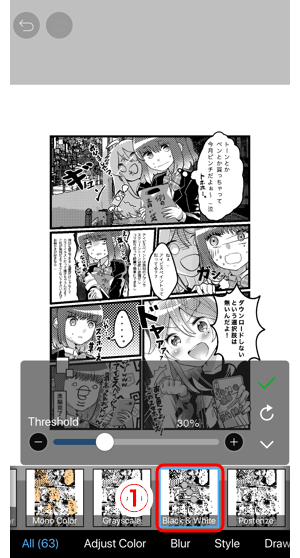 Tap ①Black & White .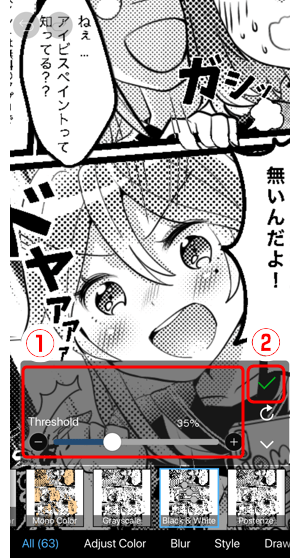 Adjust the Anti-aliasing with the ①Threshold slider and return to the canvas with the ②✓button .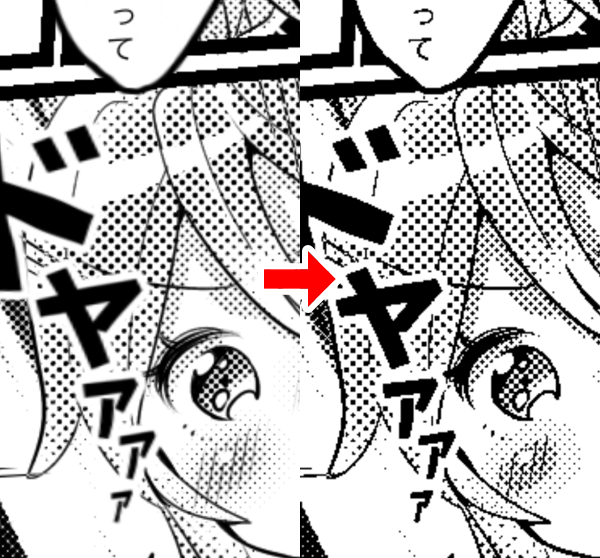 This can reduce the occurrence of moiré when printing in monochrome two-tone. When printing in monochrome two-tone, use this procedure to make all pages "Black & White" and then submit the manuscript (PNG image or PSD file) to the print shop.