Tutorials
19. View Your Artwork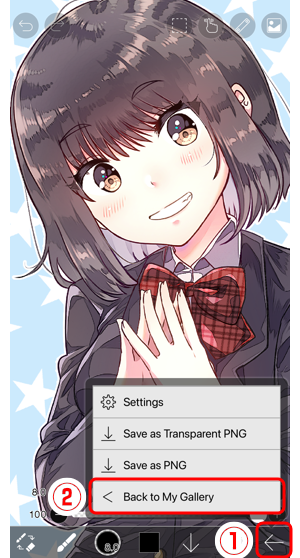 When your artwork is finished tap the ① BACK button on the Main Toolbar to go back to My Gallery.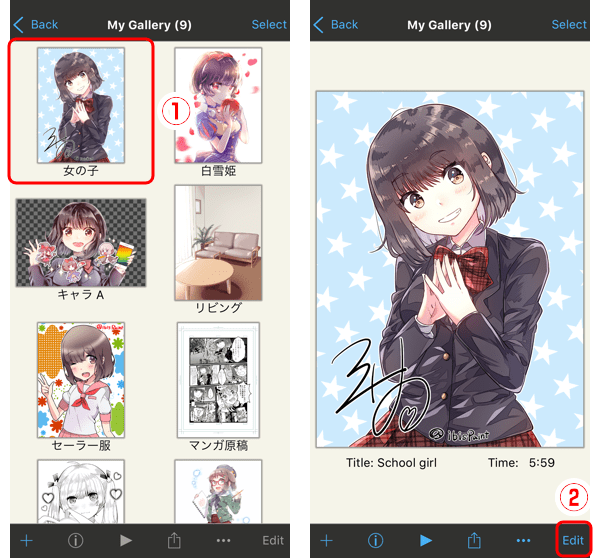 If you want to edit your artwork tap the ① Edit button.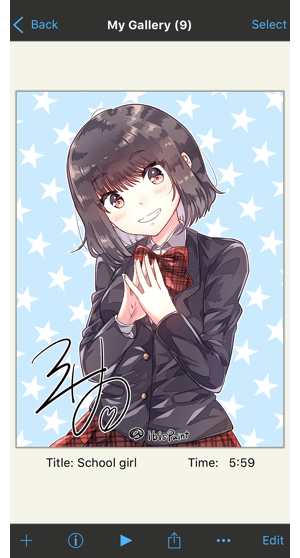 If you want to view your artwork close up double tap the Thumbnail (small image). In Enlarged View you can view other artwork by flicking left and right, not scrolling up and down. In Enlarged View the amount of time that you spent drawing the artwork is displayed. As a general rule, artwork that you plan to post should be worked on for around 4-8 hours. To return to the List view double tap or pinch in.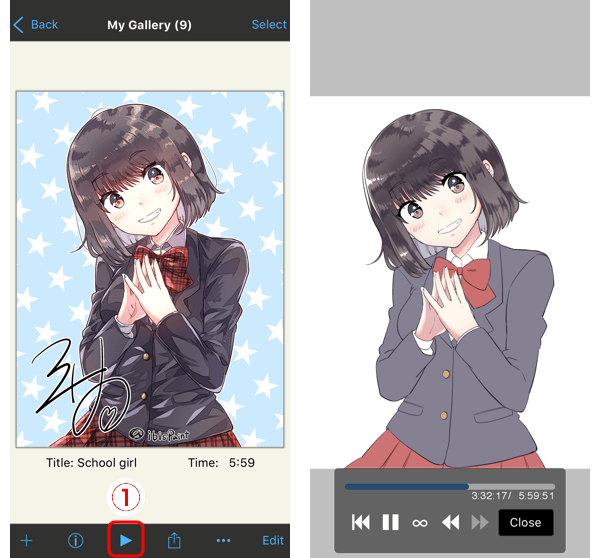 Tapping the ① Playback button displays the drawing process video.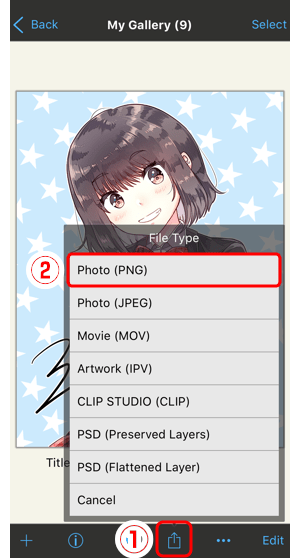 If you would like to save a completed image in your OS photo gallery, press the ① Share button (for iOS) or the "…" button (in the case of Android), tap ② Photo (PNG) , and then "Save Image." This menu also allows one to save movies, and it's fun to make movies about the drawing process and save them in the photo library. It's also enjoyable to share movies on one's favorite SNS.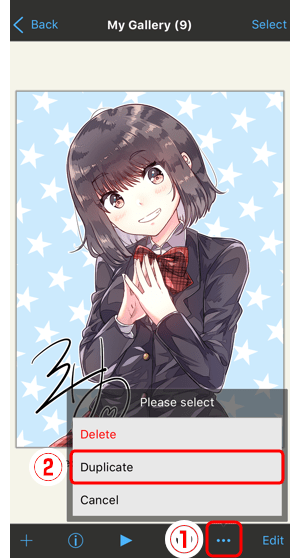 The "…" menu also contains the option to Duplicate. It can be fun to duplicate the artwork when you have finished the line drawing, and then try out different ways of coloring it in such as shading or anime styling.
* If the "Save Image" button does not appear after file format selection on iOS, it's possible that access permissions are turned off in the privacy settings. Please confirm that "ibisPaint" is "ON" here: Main Screen > Application Settings > Privacy > Photos.
* One may save images in either the JPEG or PNG formats. PNG files are larger, but image quality is preserved. The file size of JPEGs is smaller, but there is some loss of quality due to compression. Also, in the case of PNG files, transparency settings for the background layers are preserved when the file is saved.
* Even if you go the trouble of saving your image as PNG, Twitter, Facebook and other SNS convert to JPEG when posting leading to a reduction in image quality. This is probably aimed at reducing server storage requirements on the SNS side or as a measure to reduce user data allowance usage when uploading.
* For ways to post unchanged PNG images to Twitter, please refer to "How to post transparent PNG images to Twitter".